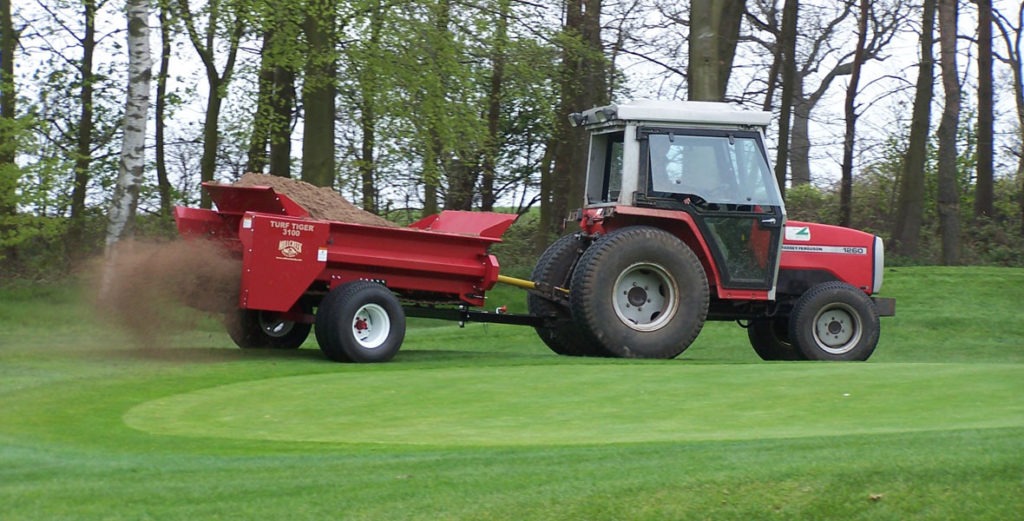 If you are responsible for a sports field, a golf course, or the grounds at a university, you understand the need to keep your grounds looking lush and beautiful throughout the year. And when it comes to maintaining turf, a quality commercial-grade top dresser is the best way to keep your turf beautiful, even, and well-groomed.
But even beyond keeping your turf looking its best, the right commercial top dressing machine will help your organization run smoother, save time and maximize productivity. As they say, "time is money," and a good top dresser will help you save both. Read on to learn more!
The Right Commercial-Grade Top Dressing Machine Will Do the Following Things For Your Business
Keep you on schedule
Good grounds managers understand that once you start topdressing, you need to stick to a routine schedule. Regular topdressing allows for proper water infiltration, eliminates thatch, and keeps playing fields level. Inclement weather, wet ground, and wet materials can easily throw off your schedule.

But, with a Millcreek top dresser, your turf maintenance schedule won't be at the mercy of the weather. Our rugged commercial top dressers have been tested under every adverse condition we could imagine. They can even handle wet and "clumpy" material with the same uniformity as dry materials.
Help you work smarter, not harder
As a grounds manager, you and your staff have a lot of responsibilities. From coordinating landscaping and outdoor maintenance to overseeing staff to caring for plants, repairing walkways, and removing litter, we know you need to stay on track.

This is why we designed our commercial top dressers to topdress twice as fast without compromising precision. Our exclusive Saber Tooth technology gives you speed, accuracy and versatility unlike any other topdresser on the market today. So, you get the job done in half the time while reducing the manpower needed to make your turf shine.
Keep your fields looking and performing their best
If you take care of athletic fields, you know that it's not just about aesthetics. You need those fields to perform! Top dressing not only helps to improve the look of your field or lawn, but also contributes to the health and performance of your turf.

A good commercial top dresser applies material evenly and consistently to provide a level surface and speeds the recovery of damaged turf. Adding a very light topdressing of sand, or another material helps manage the slick layer that forms on playing fields and can improve the putting surface on golf courses.
Ready to Learn More?
Our top dressers are high-performing, low maintenance, and will save your organization time and money. So if you're looking for a top dresser to help your athletic field, golf course or campus look its very best, contact us today to learn more. Our experienced team is standing by to answer your questions and help you choose the best top dresser model for your unique application. We look forward to hearing from you!