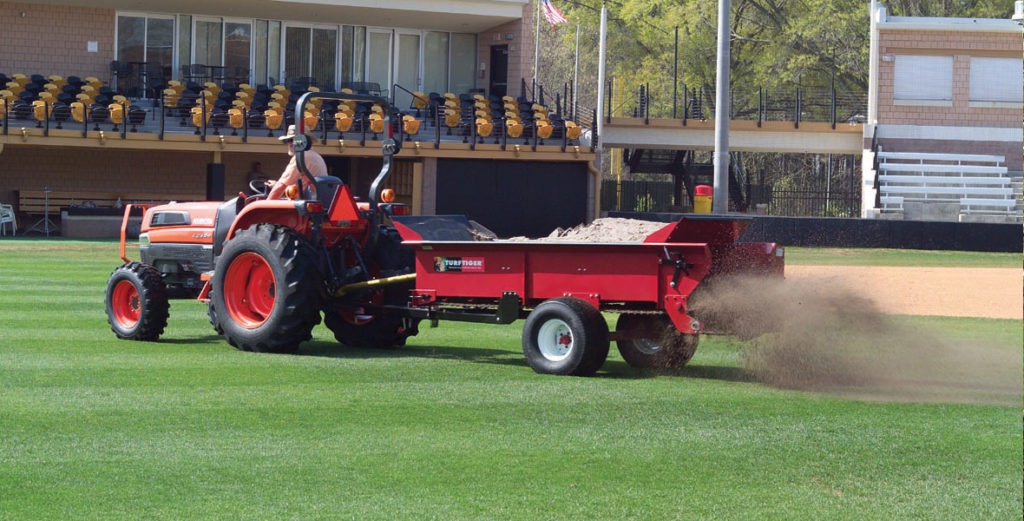 If you work in turf management, you know that a commercial top dresser is an important investment that helps to keep your grounds looking their best at all times. Top dressing is the best way to keep your turf beautiful, even, and well-groomed.
When purchasing a commercial-grade top dressing machine, you want to look for a commercial top dresser that is durable, versatile and has the features you need, but still fits into your budget. Read on to find out what sets a Millcreek Top Dresser apart from the competition.
What Makes a Millcreek Top Dresser Different?
They're Available in Multiple Sizes
No matter what size field or facility you manage, we have a top dresser that is the right size for your unique application. Our compact Turf Tiger 2100 is ideal for personal property owners, while our 3200 is great for small municipal parks and sports fields. Ideal for recreation departments, schools and larger parks, our budget friendly mid-size Turf Tiger top dressers come in several models and are the most affordable high-capacity top dressers in the world of sports turf. For larger complexes, such as stadiums and large golf courses, you can get high volume top dressing done accurately and in less time with our Turf Tiger 4300.

They're Available at Multiple Price Points
At Millcreek, we offer our customers choices, so you aren't locked into a single price tier. For budget conscious organizations that wish to gain the benefits of top dressing, our smaller, less complicated machines are the ideal choice. If you need to keep larger areas looking pristine, we offer professional models that are perfect for large commercial organizations.

They're Designed To Do What They Do from the Ground Up
All of our Turf Tiger Top Dressers are built to top dress twice as fast without sacrificing precision. Our exclusive Saber-Tooth beater technology has a metering gate that easily adjusts to high-volume material flow. The apron conveyor is designed for guaranteed tracking without slipping. And, the heavy-duty drive system provides years of worry-free service. All of these features add up to the best value in sports turf top dressing by providing power, precision and speed like no other top dresser on the market.

They're Built with Versatility in Mind
Our Saber-Tooth spreading mechanism is designed to handle dry, wet or clumpy material from light to heavy coverage in a uniform pattern. This means your turf maintenance schedule won't be compromised by weather conditions or wet material. We have tested our top dressers in every adverse condition we could find to ensure that we are providing you with the most durable, versatile top dresser available.
Are You Ready to Take Your Turf Management Game to the Next Level?
If you're looking for a top dresser to help your sports field, golf course or campus look its best, contact us today. Our experienced team is standing by to answer all of your questions and help you choose the best top dresser model for your unique application. We look forward to hearing from you!